iCareNet Conference 2014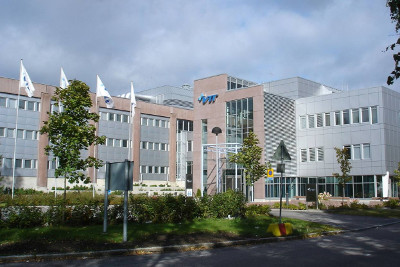 iCareNet Conference 2014
The iCareNet Conference 2014 will take place during September 30 - October 02, 2014 at VTT, Tampere, Finland.  The conference will showcase the progress and achievements made by iCareNet fellows during the past years. Besides keynote talks of well-known researchers during each conference days, demos and visits to VTT labs will round off the programme.
Programme
Tuesday 30th September
09:00 - 09:30   Registration and coffee
09:30 - 10:15   Welcome and information
10:15 - 12:45   Revolution of Knowledge Work (Patrik Floréen and Kiti Müller)
12:45 - 13:45   Lunch
13:45 - 14:30   Christian Weichel, ULANC
14:30 - 15:15   Lars Buthe, ETH
15:15 - 16:00   Varun Kakra, NIT
16:00 - 17:15   Visit to VTT facilities
Wednesday 01st October
09:00 - 10:00   Context and Task awareness in IoT (Jani Mäntyjärvi)
10:00 - 10:30   Coffee
10:30 - 11:15   Yanxia Zhang, ULANC
11:15 - 12:00   Frank Bolton, EP
12:00 - 13:00   Lunch
13:00 - 13:45   Steven Houben, ITU
13:45 - 14:30   Shahram Jalalinia, ITU
14:30 - 15:00   Coffee
15:00 - 15:45   Adrian Derungs, TUE
15:45 - 16:30   Maria Del Vecchio, VTT
16:30 - 19:00   Free time in Tampere
19:00    Dinner at Finlaysonin Palatsi
Thursday 02nd October
09:00 - 10:00   Use of Wearable Heart Rate Data for Estimation Behaviours during Daily life (Ilkka Korhonen)
10:00 - 10:15   Coffee
10:15 - 11:00   Julia Seiter, ETH
11:00 - 11:45   Pierluigi Casale, TUE
11:45 - 12:45   Lunch
12:45 - 13:30   Jeremiah Smith, ICL
13:30 - 14:15   Workgroups
14:15 - 14:30   Coffee
14:30 - 15:15   Deliverables
15:15 - 16:00   Wrap-up
16:00    Sauna event
Course Material
Material will be provided via the iCareNet repository.
Social Events
The official dinner will be held on 1st October at Finlaysonin Palatsi: http://www.finlaysoninpalatsi.com/en/
Registration
Participation in the Conference 2014 is compulsory for all fellows. Research fellows must register by sending an email with the proof of payment to the iCareNet office.
Registration fee for this event is 250 EUR, and must be transferred by bank before Sunday, September 21st 2014 to:
| | |
| --- | --- |
| Account name | Technische Universiteit Eindhoven, Faculteit EE |
| Bank name | Rabobank Eindhoven |
| IBAN | NL42Rabo0158249658 |
| Sort code/BLZ | RaboNL2U |
| Description | 363260-1001772 iCareNet Conference 2014 |
Accommodation
Hermica hotel is the only at walking distance from VTT area ( ~80-100 euros per night), website: www.hermica.fi.
Other hotels are all located in the city centre, some examples:
Venue and Local Information
How to get to Tampere
Tampere is served by Pirkkala-Airport with connections from/to Stockholm and Helsinki. To get to the centre of Tampere from the airport you are likely to need to a taxi (~30 – 40 euros). Buses from/to Pirkkala airport only run at limited schedule during daytime. Schedule can be checked to www.pauni.fi/english (bus n.61, from terminal 1 to Tampere Central Square. Ticket costs 4.70 euros in one direction). Airpro also offers few bus connections from Pirkkala to the Tampere Railway Station, schedule available to http://www.airpro.fi/bus-schedule (ticket costs 6 euro in one direction).
A good other option is to fly to Helsinki and from there take a bus or train. Tampere has frequent (approx. every hour) direct bus connections from/to Helsinki-Vantaa Airport (~ 27 euros in one direction, 2.5 hours trip). Ticket can be bought online or directly from the bus driver (for payments with credit card, only Mastercard would be accepted). Schedule and platforms can be checked to www.expressbus.fi website. Buses last stop is Linja Autoasema (Tampere Bus Station), very close to the Central Square and most of the hotels. To use the train, take a taxi to the train station 'Tikkurila' (15 mins drive) and from there the direct train to Tampere (timetables, see https://www.vr.fi/cs/vr/en/frontpage, you can buy tickets from the machines at the station). The train option is a bit faster than the bus, but not much.
If you want to visit Helsinki, Helsinki railway station can be reached with buses 615 and 620 (ticket costs 5 euros in one direction), departing from/to both terminals of the airports. For schedules: https://www.hsl.fi/reitit-ja-aikataulut. Finally, for plan your journey to Tampere by train you can check: https://www.vr.fi/cs/vr/en/frontpage. Railway station is located just few minutes walking from the Central Square.
Getting to VTT
VTT area is located in Hervanta, on average 12 km from Tampere city center. Bus connection from/to the city center are very frequent, in particular buses 3, 4, 5, 13 and 20 connect the center to VTT or its neighborhood. For schedule: http://joukkoliikenne.tampere.fi/en/. The bus ticket cost 2.60 euros in one direction and it can be bought directly from the bus driver.
iCareNet Conference 2014 will be held in the VTT main building located in Tekniikankatu 1 (see map below).
The meeting rooms we have, are meeting rooms "Näsi" and "Neula" opposite the reception desk. Please note that you need to register yourself at the reception desk first to get a visitors badge.
Other information
Tap water is safe to drink.

The official languages are Finnish and Swedish, but English is spoken by everyone.

Country dialing code is +358.

Currency is Euro.

Time zone is CEST +1.

Electricity 230 volts, 50Hz, standard two pin plugs.

Emergency number is 112.