Summer School 2013: Designing for future healthcare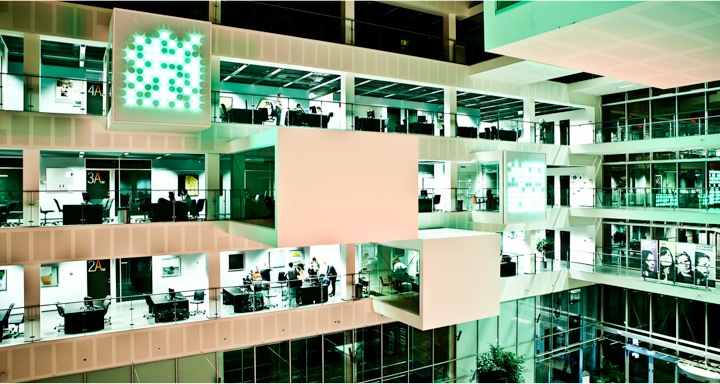 Scope and aims
The event will focus on methods for design, evaluation, and documentation of interactive systems made for use in a) hospitals and b) personal use outside hospitals. Both design scenarios give rise to their own specific challenges. The topics of lectures and workshops are (to be extended):
Design
Iterative design process
Participatory design
Video prototyping
Evaluation
Hospital environment simulation (case and visit: ITX/Herlev hospital living lab)
Longitudinal studies of personal healthcare technologies (case: MONARCA EU FP7 project)
Documentation
Basic academic writing techniques
Collaborative methods for improving the quality
Program 
Monday 23: Intro + visit to hospital evaluation facility ITX
10.30 [1st floor balcony, close to the ITU reception] Coffee
11.00 [room 3A20/28] Welcome and Introduction by Jakob Bardram and Thomas Pederson
11.15 [room 3A20/28] One-Minute Madness presentations 
11.45 [room 3A20/28] Round off by Jakob Bardram and Thomas Pederson
12.00 Lunch
13.00 Bus from IT University of Copenhagen (ITU) to ITX
13.30 Guided tour of ITX – Herlev Hospital interaction simulation facility
16.00 Bus from ITX to Hotel
16.30 End
Tuesday 24 [room 3A20/28] Design process
09.00 Lecture/exercises (full-day) – Iterative design process & participatory design: Aurelien Tabard (http://www.tabard.fr/)
10.15 Coffee
10.30 Video prototyping
12.00 Lunch
13.00 Work in groups
15.00 Coffee
15.15 Work in groups
16.30 Presentations
17.00 End
Wednesday 25 [room 3A20/28] Evaluation in and outside hospitals + Medical exhibition visit
09.00 Lecture – Deployment and evaluation of interactive systems in hospitals: Jakob Bardram, ITU
09.50 Short break
10.00 Lecture – Deployment and eval. of personal healthcare systems – the case of MONARCA: Mads Frost, ITU
10.45 Coffee
11.00 Lecture – The Impact of HCI Design on Health Behavior: The Case for Visual, Interactive, Personalized Feedback: Dov Te'eni, Tel-Aviv University
12.00 Lunch on your own
13.00 Free time in Copenhagen
15.30 Exhibition visit: Medical Museion, http://www.museion.ku.dk/ 
17.00 End
Thusday 26 [room 3A20/28] Documentation / academic writing
09.00 Lecture – Academic writing part 1: Scott MacKenzie, York University, Canada (http://www.yorku.ca/mack/)
10.15 Coffee
10.30 Lecture – Academic writing part 2, Scott MacKenzie
12.00 Lunch
13.00 Collaborative academic writing workshop part 1 (everyone works on their own papers)
15.00 Coffee
15.15 Collaborative academic writing workshop part 2
17.00 End
18.00 Social Event: Dinner at Spiseloppen, Christiania (http://spiseloppen.dk/)
Friday 27 [4A54]  Workgroup meetings, summary, outlook
09.00 Workgroup introductions & meetings, part 1
10.15 Coffee
10.30 Workgroup introductions & meetings, part 2
11.00 Summer School conclusions: WG update, WS2014 poll results, feedback
12.00 Lunch
13.00 Departure
Course material (to be added here soon)
Deployment and evaluation of a) personal healthcare applications, b) interactive systems in hospitals
Iterative design process and methods
Academic writing
Social events
Afternoon stroll in Copenhagen on your own (Wednesday)
Dinner at Spiseloppen restaurant, Christiania neighbourhood (Thursday)
Registration (for iCareNet Fellows Only )
For iCareNet research fellows participation in the Summer School is compulsory.Research fellows need to registerby sending an email message with the digital proof of the registration fee payment to icarenet_office <at > lists.actlab.ele.tue.nl. 
Registration must be made before September 3, 2013. The registration fee of 250 EUR must be paid by bank transfer to:
| | |
| --- | --- |
| Account name | Technische Universiteit Eindhoven, Faculteit EE |
| Bank name | Rabobank Eindhoven |
| IBAN | NL42Rabo0158249658 |
| Sort code/BLZ | RaboNL2U |
| Description | 363260-1001772 iCareNet Summer School Events 2013 |
Accommodation
All participants need to make their own hotel reservations. The hotel we recommend is Wakeup Copenhagen.
Wakeup Copenhagen is modernly designed, located right at the heart of Copenhagen city, easy to reach from Copenhagen international airport, easy to get to IT University of Copenhagen. There is free internet access in all 510 rooms at this hotel. The current rate is 970 DKK per night including breakfast. We have been informed about another big conference in Copenhagen at the same time, so please make sure that you make a reservation well in advance in case the hotel is overbooked.
Wakeup Copenhagen, Carsten Niebuhrs Gade 11 (next to Kalvebod Brygge 38). DK-1577 Copenhagen. Tel: +45 4480. Fax: +45 4480 0001. Email: wakeupcopenhagen@arp-hansen.dk
In case the hotel should be overbooked, here is a few other hotels we recommend:
Danhostel Copenhagen City: The best design hostel in town. The 5-star hostel Danhostel Copenhagen City has a magnificent view over the city and you can take a bus or borrow a city bike to get to the IT University of Copenhagen, which is reachable within 10-15 minutes.
Danhostel Copenhagen City H.C. Andersens Boulevard 50, DK-1553 Copenhagen V. Tel: +45 3311 8585. Booking Tel: +45 3311 8585. Email: cphcitybooking@danhostel.dk\>
CABINN Metro Hotel: CABINN Metro Hotel is a designer hotel near the airport and Bella Center. It is one of Denmark's most modern hotels, designed by the American architect Daniel Libeskind. With its location in peaceful Ørestad, the hotel is just 5 minutes by train from Copenhagen Airport, 10 minutes by metro from central Copenhagen and a short walk from the Bella Center convention centre. The IT University of Copenhagen is reachable within 5 minutes by metro.
Cabinn Metro,Arne Jacobsens Allé 2 2300 København S. Tel: 32 46 57 00. Email: metro@cabinn.com
Venue and local information
IT University of Copenhagen. Rued Langgaards Vej 7 DK-2300 Copenhagen S Denmark
Phone: +45 72 18 50 00. Fax: + 45 72 18 50 01. Email: itu@itu.dk
Local transport
Copenhagen is easy to get to and around. Public transport in Copenhagen is quite efficient. If you would like to use public transport, we suggest that you should use http://www.rejseplanen.dk to plan your journey. The site is available in Danish, English and German.
Distance from the recommended hotels and hostel to the IT University (address: Rued Langgaards Vej 7, 2300 Copenhagen S) is within the two-zone area of Copenhagen. A single-ride two-zone ticket costs DKK 24 (approx. 3 euro) while a two-zone multi-ride ticket with ten clips (2-zone klippekort) costs DKK 150 (approx. 20 euro). You can purchase a ticket at every train/Metro station and inside the airport. The ticket can be used both for trains, metros and buses. If you buy a multi-ride ticket, remember to stamp the ticket before entering the metro/train or the bus.
Please note that Islands Brygge and DR Byen metro stations are just a few minutes on foot to the IT University of Copenhagen.
From the airport to the IT University (expected travel time: 15 min.)
On arrival at Copenhagen international airport (Kastrup), you can easily reach the IT University by metro (DR Byen). You will need to buy a ticket valid for 3 zones (see below for information on how to get from the Metro to the IT University).
From Wakeup Copenhagen hotel to the IT University (expected travel time: 25 min.)
If you use public transport, you should do the following:
Walk to Copenhagen Central station, take one of the Øresund trains towards Kastrup airport or Malmö C and get off at Ørestad station (2nd stop from Copenhagen Central station)
Take Metro M1 towards Vanløse station to DR Byen
The IT-University is located behind the DR building and the blue Concert House. So walk along the canal in order to find your way to the IT-University.
OR
Contact
The local organizing team of this iCareNet event consists of Jakob Bardram, Thomas Pederson, Inger Vibeke Dorph, and Emilia Zosia Wasik. For questions regarding travel and accommodation – drop an email to Emilia at ezwa@itu.dk. For budget questions, talk to Inger Vibeke at ivdo@itu.dk. For general questions about the event, contact Thomas at tped@itu.dk.
Travel information
By air
Copenhagen Airport is the airport in Scandinavia with the most international flight destinations. Copenhagen Airport is one of the newest in Europe and has been ranked among the best in the world whilst being the preferred low cost carrier airport in Scandinavia. You can reach Copenhagen Airport on non-stop flights from more than 130 destinations choosing between more than 60 international airlines. Once you arrive, you will find a train and a metro line to bring you swiftly into the heart of the city in a mere 12 minutes.
By train
Copenhagen is easily accessible by train from all major cities in Europe. A train journey both contributes to C02 reduction and gives you the possibility of experiencing the wonderful landscapes. Copenhagen central station has, for example, good Intercity and Eurocity connections to Gothenburg (ca. 4 hours), Stockholm (ca. 5 hours), Hamburg (ca. 5 hours), Berlin (ca. 7.22 hours), Frankfurt (ca. 8.30 hours), Oslo (ca. 9.40 hours), Amsterdam (ca. 11 hours), Zurich and Paris (ca. 17 hours). For a detailed connection, please use the Journey Planner to plan your trip.
In Copenhagen and surroundings, public transport is comfortable, efficient and safe. You can easily get around and transfer between buses, harbour buses, trains and the metro - all on the same ticket!
About Copenhagen
Language: The official language is Danish. However, most visitors will find communication easy as the Danish population's language proficiency is amongst the highest in Europe.
Size: The Greater Copenhagen region covers an area of 2.862 sq km. Copenhagen is 35 square miles/91 square kilometers. Population of the city: 1,700,000 of which 600,000 live in the city center.
The geographic position (Toldboden): 55° 41´ N, 12° 36´ E
Elevation: 16 feet/5 meters
Electricity: 230 volts, 50Hz, standard two pin plugs
Time Zone: GMT/UTC +2
Country Dialing Code: +45
Currency: Danish Kroner (DKK). 1 Euro is 7.45 DKK.
Water: Tap water is completely safe to drink throughout Denmark
General information
If you come from a country with a visa requirement for entering Denmark, you MUST obtain a visa prior to entry. Please visit the Ministry of Foreign Affairs of Denmark's website to check whether or not you are obliged to get a visa and get detailed guidelines regarding visa rules. Check with the Danish Embassy/consulate in your respective country to make sure which form you have to fill out and what they require from the host in good time. If you are an EU-citizen, you MUST have a valid passport to enter Denmark.
Invitation Letter
The iCareNet Organising Committee is willing to provide delegates with an invitation letter for visa application. Such a letter is signed, scanned and sent to the delegate by mail as pdf-file. If the Danish Embassy/consulate in the delegate's respective country requires the letter to be emailed to them directly by the host, we can help you with that as well. Please note that we ARE NOT able to send the letter to you by post.
For the issuance of the invitation letter, please send the following information to ezwa@itu.dk:
Your full name (precisely as stated in your passport)
Your academic title
Name and contact information of your institution/affiliation including name of your department/section/division (Full address, telephone number and homepage address)
Name and contact information of your supervisor
Your passport number
Your working email address